Super Fun Time
---
Super Fun Time ip: mc.superfuntime.org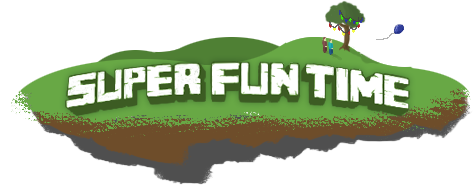 Super Fun Time - The server which will bring you the most fun times. Players on our server enjoy expressing themselves, SFTMMO, death by lava, and more.
Our servers host a large number of dedicated users. Super Fun Time boasts a committed player base with utmost expertise.
---
Server Features Include:
Active staff team which manages:

Build protection

User Support

SFTMMO

Our custom MMO plugin, heavily inspired by MCMMO.

Economy

Staff run shops
Player run shops

Slimefun

Custom Items, blocks, and machines! Tekkit feel on vanilla Minecraft.

Event Hosting Team - Provides hosting for many minigames such as:

Board game
Spleef
Parkour
Wipeout
Grassluck
And more!

Gadgets and Toys

Vehicles, Airplanes, Custom Weapons, Custom Crates, and more!

Discord!
---
SFT will always strive to foster an inclusive experience, tailored to all players.


Our other servers: http://tinyurl.com/sftservers

Also check out our mod-pack and our Pixelmon server, SFT Pixelmon

---
---
Super Fun Time's Top Voters
| | |
| --- | --- |
| mazeworker | 33 |
| Tazzl | 16 |
| garywb | 16 |
| GlitterBomb84 | 14 |
| MonsterSponge | 11 |
| Mrs_Ender88 | 11 |
| MasterX70 | 10 |
| crazydoktor | 10 |
| Tyler7733 | 10 |
| Aslanbor | 9 |